HVAC Repair and Installation Services Stanford, CA
When you want it done right, it has to be DunRite!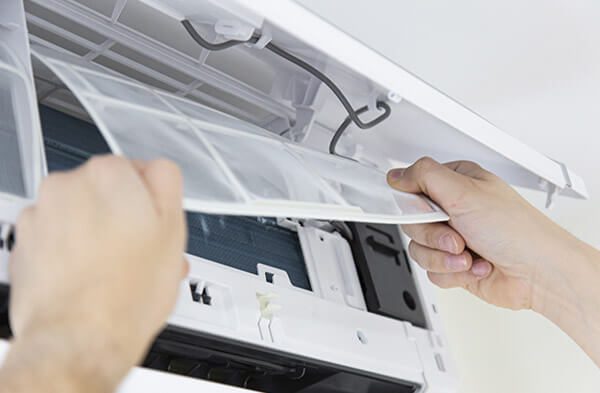 Beat California's Mediterranean weather with a quality HVAC system.
Stanford is home to the esteemed Stanford University, where the summers are long, and the winters are short. An excellent HVAC system in Stanford, CA, will provide the comfort you need no matter the outside temperature.
An ill-maintained HVAC system will struggle to regulate your indoor temperature, making everyday tasks an uncomfortable struggle.
When To Call an HVAC Contractor in the Stanford, CA, Area
It's essential to know the signs, both subtle and blatant, that your HVAC system is due for replacement or repair to avoid discomfort and needless expenses.
1. Your HVAC system runs constantly.
Your AC naturally works extra hard in warm weather; however, if your HVAC system runs non-stop even on the average day, it may be time to have it checked by our technicians at DunRite. We will check if the air filters are clean and if any wires are loose or disconnected. Whatever the problem is, we can handle it.
2. Your HVAC system is old.
A well-maintained HVAC system lasts for over a decade. According to the Department of Energy, HVAC systems hitting the 15-year mark should be replaced. Even if you believe yours is working optimally, it's likely time to have us perform HVAC installation in your Stanford, CA, home.
Newer models are more cost- and energy-efficient. We at DunRite Heating & Air, Inc. will recommend the most suitable unit for your budget.
3. Your HVAC system has been repaired countless times.
If you've lost count of how many HVAC specialists you've called in Stanford, CA, it's a telling sign that your current HVAC system is overdue for replacement.
Our technicians will assess your HVAC system to determine whether repair is still viable. If repair costs as much as a new unit, we'll offer to install a replacement instead.
4. Your HVAC system can no longer regulate your home's temperature.
If you've been experiencing uneven room-to-room temperature, call in HVAC technicians to have the problem addressed. Some parts may no longer be functioning at maximum efficiency.
At DunRite, we have well-equipped trucks loaded with HVAC parts and components to perform repairs as soon as we arrive.
The thing about DunRite is that we continuously live up to our slogan, "If you want it done right, it has to be DunRite!"
Here are a few reasons to always choose us:
Buying an HVAC system is an investment for your future as they are designed to last over ten years. Routine maintenance and inspection play a major role in your HVAC system's lifespan.
Our goal is to provide you with an honest and reliable service. If your unit malfunctions, we'll determine whether repair is more practical than replacement. If push comes to shove, we'll provide the best brands and models in the business to replace yours.
DunRite Heating & Air, Inc. has promotions that anyone can avail of:
Senior Discount: All our senior clients are always entitled to a 5% discount.
Write a Review and Extend Your Warranty: Extend your warranty for parts and labor for 12 months when you complete a review on Angi and Google Review. To qualify, leave a review within 14 days of project completion.
Referral Program: Refer anyone you know to us. For every referral that leads to a sale of an HVAC system, you'll receive $100.
The mentioned offers never expire. You can also use them simultaneously. Head over to our Coupons and Specials page for more details.
When it comes to your HVAC system, you only want the best to handle it. An HVAC determines the comfort of your home. DunRite Heating & Air, Inc. has been serving residential and commercial properties for 49 years now, so you know our team of seasoned technicians has the skills, knowledge, and equipment to attend to your HVAC needs with the testimonials to prove it.
Choose DunRite for Your HVAC Needs
Entrust your HVAC system to us, and your year-round comfort is guaranteed.
DunRite provides the best HVAC services in the Stanford, CA, area — covering installation, maintenance, repair, and replacement. Serving our clients is our top priority. Call or send us an email today!
"Fixed our heating system within one hour"
"After several months of operating the catering side of our business at our new location in Santa Clara, I am now positive we made the correct choice with DunRite."
"You and your team are miracle workers!"
"You did a great job on my home air conditioning project"
"Mike Wood, the President, answered and after hearing about my problem said he would be at my home within an hour."
"They definitely lived up to their reputation."
"Mr. Mike Wood, owner of Dunrite Heating & Air, explained on the phone exactly what was involved in time & money to repair my air conditioner."
"As we move on in the sunset world of our lives, at times we neglect to stop and thank those that without hesitation, render services to insure comfort and safety in our lives."
"Fixed our heating system within one hour"
"You and your team are miracle workers!"
"You did a great job on my home air conditioning project"
"They definitely lived up to their reputation."